GOOD AFTERNOON GIBRALTAR!
If you've eaten all your quarantine snacks that were meant to last for 2 weeks (in one hour), used the last roll of toilet paper, and you're pretty much hasta el moño of looking at stats and graphs… why not grab a cup of tea, put your feet up (hey, you're probably at home) and read our weekly round-up below…
Did you know that laughter boosts your immune system? 😊
⭐

What's on in Ocean Village / World Trade Center 

⭐
To thank you all for your tireless service, we're offering the gals and guys at all Emergency Services 30% discount of your bill at Las Iguanas, wagamama and Pizza Express! Make sure you take advantage of the £3 deal for Emergency Services at Café Fresco too!
Supernatural has launched their "Donate a Meal" campaign with great success, with over 300 meals donated so far! You can donate a meal to GHA staff, Emergency Services, Elderly or the Homeless here: https://www.supernatural.gi/…/donate-meals-coronavirus-gibr…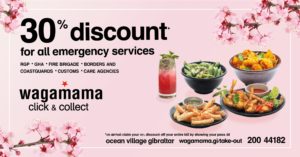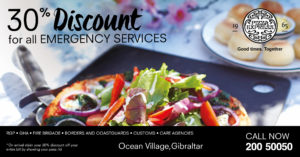 ⭐

What's on around Gib?

⭐
Gibraltar is well known for its lively music scene, but due to social distancing we can't gather in bars. The next best thing? Grab a beer, order a takeaway & enjoy a live music concert live streamed on Facebook every Friday with the most talented musicians in Gibraltar! Search the group on Facebook >> (Friday Night Live – Keep Safe Edition)
⭐ POSITIVE VIBES >> An 89 year old Gibraltarian woman is back home after having completely recovered from Covid-19
The Gibraltar Youth Service are providing lessons for young people via an online App 'Zoom'. Try your hand at arts & crafts, mindfulness, scavenger hunts, music, quizzes and games!
If you need a little helping hand (sometimes we all do) there are groups of amazing volunteers in Gibraltar who are offering to shop and pick up essentials for you. Contact Diane Crookes on +44 7731322536
Image Graphics are giving away free scrap paper (white and coloured) – for all your painting, sketching and scribbling needs!
A daytime service providing online shows, performances and other education initiatives is being run by the Gibraltar Cultural Online Programming. Check it out: https://www.facebook.com/culture.gi/
If you need a place to talk, look no further. The Dept of Education has launched a helpline for parents and students in Gibraltar. Call 200 124 99 or visit: There's a chat helpline available on Instagram and & FB too! #YouAreNotAlone
British Airways continues to fly four flights a week between Gibraltar from London Heathrow.
⭐These guys deserve a round of applause too!⭐
The generous residents of the Sea Masters Lodge and Albert Risso House have each donated £2,000 to the GHA account in the fight against Covid-19! Well done guys!
The Alsina family have donated a £45,000 ventilator to the GHA!
The Moroccan Community Association for their fantastic donation of £3,400 for the provision of medical supplies!
Lee Harold from Eat & Chat Café in the ICC is collecting food donations from different businesses and cooking and preparing the food to give to the homeless every day! Well done Lee!
Keep strong Gibraltar!